正念乐龄
The Ageing Well With Mindfulness 正念乐龄 course is approved under the National Silver Academy (NSA) and is SkillsFuture Credit (SFC) claimable.
The Ageing Well With Mindfulness course (in English and Chinese) is developed based on the MBSR (Mindfulness-Based Stress Reduction), the most established and recognised mindfulness program in the world. MBSR was created by Dr Jon Kabat Zinn in 1979, at the University of Massachusetts Medical School, Center for Mindfulness.
Practising mindfulness improves well-being, reduces stress and helps one manage difficult emotions like anger, fear and anxiety. Research studies targeted at the elderly have also linked mindfulness to reducing loneliness (a major risk factor for health problems, especially in the elderly), slowing the progression of Alzheimer's disease, and improved longevity.
This course is to help working seniors and retirees
Cope with stressful experiences at work or at home. As well as pain and illness.
Manage difficult emotions like anger, fear and anxiety
Communicate more calmly
Concentrate and work on the task at hand more efficiently
reduce loneliness and improve social interaction
Location: Jurong East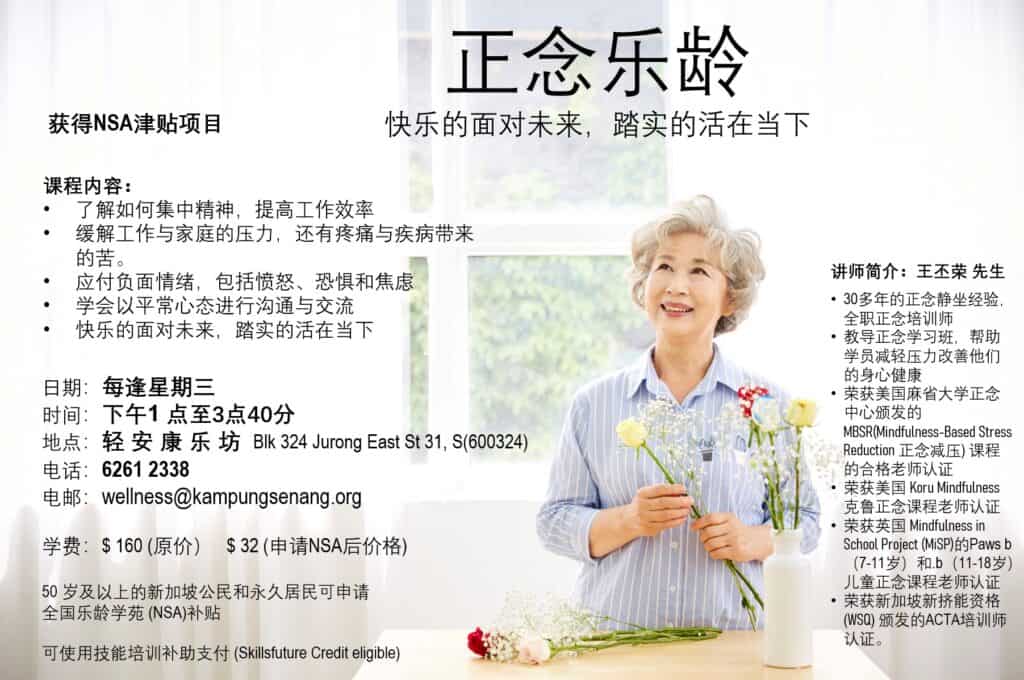 ---
Location: Aljunied